AXSE stands for AXIS XPERIENCE STEAM EXPLORATION. It is a local initiative by Axis Xperience to incorporate STEAM Education with student's life in both school and during holidays.
With our vision – To become the most trusted STEAM Education Solution provider, we ensure to offer fun and exciting holiday programs for our students to pick their interest and enhance their development in STEAM knowledge and based skills.
Find out all the best holiday programs with us and let our students dive into great literature, continuously exploring, enhancing creativity and more.
Weekend STEAM Coding Course
Weekend Retrogaming Coding Course based on Microsoft compatible device and GUI tools for added STEAM related development. This is a supplementary coding course for students who are interested on how Retrogaming works.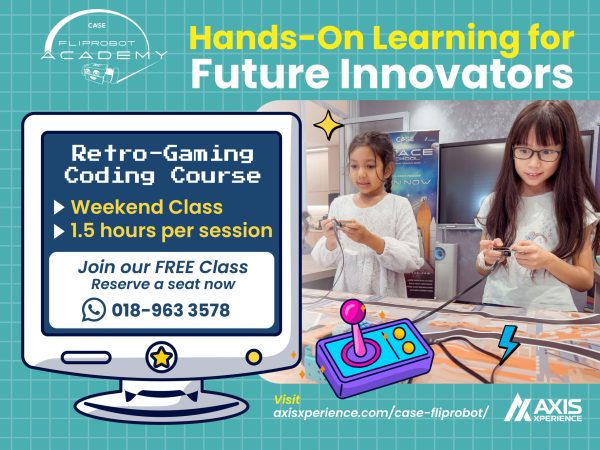 Suitable for school age
11 years old and above
Course period
1 Semester
(approx. 4-5 months depending on school holidays)
1.5 hours each of 12 sessions
(No Exam & Graduations Certificate of Participation Only)
Details *
Day: Pre-Scheduled Saturdays
(Calendar Table)
Time: 01:00 pm~02:30 pm
(1.5 hours)
*exclude holidays and long weekends
Course Fee
RM 1,200
Using Microsoft & Scratch UI interface, retrogaming is introduce
via various devices platform based on Microbit & Arcade Boards
AXSE School Holiday Program by Axis Xperience is exclusively designed to give our students a chance to develop their experience with FlipRobot and STEAM learning.
Various themes available each school holidays. Learn Space & Exploration, Robot at Home, RoboSoccer, Globe Trotter, Retro-Gamind Coding Space Wars and many more!
Robotics learning consists of five pivotal areas: construct, control, interact, kinetic energy and artificial intelligence.
Robotics learning is rich with multidisciplinary principles and is a hands-on way of developing students' critical STEAM-related skills such as problem-solving, critical thinking, computational thinking, design thinking, collaboration, communication and most importantly curiosity and imagination.
Honing these skills is essential for students to prepare themselves for success in the future.
Critical Thinking -Provide personal views on the discussions and questions in the course.
Creativity – Have creative ideas about robot assembly and programming.
Complex problem solving – Ability to analyse, judge and solve problems.
Communication – The communication between the group and the teacher can be effective and smooth.
Teamwork ability (Collaboration) – The cooperation of the group can quickly divide the work and discuss and achieve the purpose of the activity.
Register Your Child for Robotics Fun!
Make sure you're in for an awesome Retrogaming Coding Course
Learning class, limited to 10 people per class!
Click "ENROLL COURSE" button below​
Select choice of program & preferable group​
Payment and get confirmation
Check out our upcoming​ holidays programs!​
| AXSE Holiday Programs | Date | Booking |
| --- | --- | --- |
| AXSE FlipRobot Globe Trotter and Retro-Game Coding Space Wars | | |
| AXSE Arts and Science​ - Kami Anak Malaysia Challenge | | |
| AXSE STEAM Experience Week​ (Science & Mathematics) | | |
| AXSE STEAM Experience Week​ (Science & Mathematics) | | |
| AXSE STEAM Experience Week​ (Technology & Engineering) | | |
| AXSE STEAM Experience Week​ (Technology & Engineering) | | |
| AXSE STEAM Experience Week​ (Arts & Technology) | | |
| AXSE STEAM Experience Week​ (Arts & Technology) | | |
| | | |
| | | |
| AXSE STEAM Experience Robotics Camp | | |